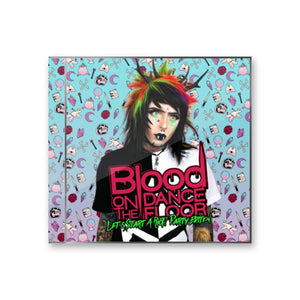 Blood on the Dance Floor "LSAR" CD
Regular price $10.00 Sale
With the 11th anniversary of BOTDF we resurrect the previous album and include two reborn tracks of Fallen Star & Modern World Christ. This limited edition bundle will be the last revamp of Riot. Limited to only 500 copies. Once it's gone, it will not return. So make sure you get this limited edition album that started BOTDF & it's mission to offend the world & unite the outcasts.
Let's Start A Riot
I Can't Get Enough
Bitches Get Stitches
Blood On The Dance Floor (LSAR)
Sex & Violence
I <3 Hello Kitty
You're A Dancer, You're Not A Lover
Modern World Christ
Money & Hoes
Till Death Do We Party
I Hope You Choke
Fallen Star
Libertine
Bonus Tracks
Fallen Star Restitched
Modern World Christ Restitched
*NOTE: Tracklisting on the CD lists "Blood On The Dance Floor (LSAR) Restitched.  CDs DO NOT contain this song.